TRAFFIC FRACTAL ANALYSIS AND THE DETERMINE THE PROBABILITY CALL BLOCKING IN CELLULAR MOBILE NETWORKS
Abstract
The purpose of this article is analysis of fractal properties of traffic and its influence on the characteristics of telecommunication systems for a given quality of service (QoS) as invariant to scale throbbing traffic structure can significantly influence the network performance. Analysis of the causes and consequences of fractal in traffic, and to identify areas handover is an important task in the modeling of radio coverage in the environment base stations Radio Mobile [1]. The numerical analysis model is incomplete two streams available system of mass service (SMS) with expectations calling for the handover and determine the probability of each new call blocking, call handover-and-multiple-call handover in a mobile network cell.
References
Radio Mobile Handbooks [Electronic resource] – Available on: http://www.antennex.com/Sshack/radmob/RadMob HB.html.
Shelukhin O.I. Multifractals. Information and communication applications / O.I. Shelukhin. – M.: Goryachaya liniya – Telecom, 2011. – P. 576.
Kalush Yu .A. The Hurst exponent and its hidden properties /Yu .A. Kalush, V.M. Loginov // Siberian Journal of Industrial Mathematics. – 2002. – V. 5, № 4 (12). – 29-34 pp.
Zaragoza D. Experimental validation of the ON– OFF packet-level model for IP traffic / D. Zaragoza, C. Belo. – 2007. – PP. 975–989
Koronenko A.M. The study of the dynamics of multiservice network load / A.M. Koronenko // Vestnik of NTUU "KPI". Informatics, Management and computing machinery. – 2014. – № 60 – 95-101 pp.
Koronenko A.M. Methods of efficient dynamic distribution of channels between voice calls and data / A.M. Koronenko // Electronics and Communications – 2014. – № 4 (81) – 83-89 pp.
Fedorova M.L. About the study of the property of self-similarity of traffic multiservice network [Electronic resource] / M.L. Fedorov, T.M. Ledeneva.
Terdik G. Levy Flights and Fractal Modeling of Internet Traffic / G. Terdik, T. Gyires // IEEE/ACM TRANSACTIONS ON NETWORKING. – 2009. – Vol.17 – PP. 120 – 129.
Paxson V. Fast Approximation of Self-Similar Network Traffic / V. Paxson // Lawrence Berkley Laboratory Technical Report - 36750, April 1995
Maslov S.A. Analysis of the types and procedures of hen-dovera networks GSM – TComm #32008 [Electronic resource] / S.A. Maslov. – Available on: http://cyberleninka.ru/article/n/analiz-vidov-i-protsedur-hendovera-v-setyah-gsm.
Gaydamak Y.V. Models of service of calls in the network of cellular mobile communication / Y.V. Gaydamak, E.R. Zaripov, K.E. Samuylov. – M.: Publishing house of The Peoples' Friendship University of Russia, 2008 – P. 72.
Borodakiy V.Y. Educational and Methodic Complex for Research and Education course for undergraduate students models of service of calls in the network of cellular mobile communication / V.Y. Borodakiy. – Moscow. – 2013. – 68 -112 pp.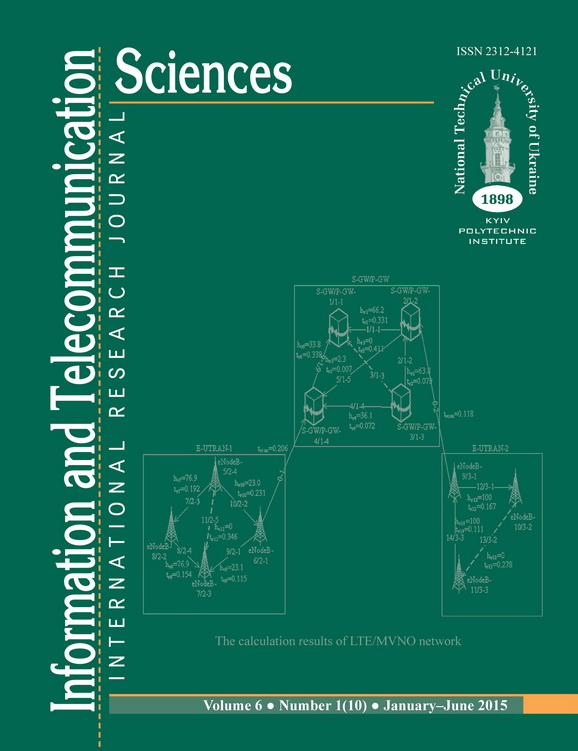 Downloads