COMPLEX APPROACH TO SERVICE DEVELOPMENT
Abstract
Modern companies including telecommunication companies and mobile operators working in the global environment should guarantee technological effectiveness and innovation, renewing their technologies and services. Operation Support Sys-tem/Business Support System is used in telecommunication companies. In current state-of-the-art approaches, several itera-tions involving analysts and system architects are necessary, methodologies allow modeling non-functional or functional re-quirements but they do not take into account the interaction between functional and non-functional requirements as well as collaboration between services. Web Services Agreement is a convenient way to contain QoS parameters but state-of-the-art SLA-aware methods cannot support all classes of non-functional parameters and provide run-time support and dynamic recon-figuration at the same time. The approach proposed in this paper fills this gap. It employs a well-defined workflow and analy-sis model for developing and adapting complex software systems including support of all classes of non-functional parameters and providing run-time support and dynamic reconfiguration of provided services.
References
Börger E. Approaches to modeling business processes: a critical analysis of BPMN, workflow patterns and YAWL. ─ Springer, 2011. ─ 14p.
Business process management: Where business proc-esses and web services meet / W. M. P. van der Aalst, B. Benatallah, F. Casati, F. Curbera, H. M. W. Verbeek // Data and Knowledge Engineering. ─ 2007. ─ Vol. 61, N. 1. ─ P. 1─5.
A novel approach to increase efficiency of OSS/BSS workflow planning and design / T. Kot, A. Reverchuk, L.Globa, A. Schill // Lecture Notes in Business Information Processing. ─ Springer, 2012. ─ Vol. 117. ─ P. 142─152.
Software errors cost U.S. Economy $59.5 billion annu-ally: NIST assesses technical needs of industry to improve software-testing. ─ 2002. ─ http://www.cse.buffalo.edu/~ mikeb/
Non-functional requirements in software engineering / L. Chung, B. A. Nixon, E. Yu, J. Mylopoulos. ─ Boston: Kluwer Academic Publishers, 2000. ─ 472 p.
Social Modeling for Requirements Engineering / E. Yu, P. Giorgini, N. Maiden, J. Mylopoulos. ─ Cambridge, MA: MIT Press, 2011. ─ 752 p.
Van Lamsweerde A. Requirements engineering: From system goals to UML models to software specifications. ─ John Wiley and Sons, 2009. ─ 650 p.
Mendling J., Lassen K., Zdun U. On the transformation of control flow between block-oriented and graph-oriented process modeling languages // IJBPIM. Special Issue on Model-Driven Engineering of Executable Business Process Models. ─ 2008. ─ Vol. 3, N. 2, ─ P. 96─108.
Klingemann J., Wasch J., Aberer K. Deriving service models in cross-organizational workflows // Proceedings of the 9th International Workshop on Research Issues on Data Engineering: Information Technology for Virtual Enterprises. ─ March 1999. ─ P. 100─107.
Quality driven web services composition / L. Zeng, B. Benatallah, M. Dumas, J. Kalagnanam, Q. Z. Sheng // Pro-ceedings of the 12th International Conference on World Wide Web. ─ May 2003. ─ P.411─421.
Constraint driven web service composition in METEOR-S / R. Aggarwal, K. Verma, J. Miller, W. Milnor // Proceedings of the 2004 IEEE International Conference on Services Computing. ─ September 2004. ─ P. 23─30.
QoS-aware middleware for web services composition / L. Zeng, B. Benatallah, A. Ngu, M. Dumas, J. T. Kalag-nanam, H. Chang // IEEE Transactions on Software Engi-neering. ─ 2004. ─ Vol. 30. ─ P. 311─327.
Aiello M., Giorgini P. Applying the Tropos method-ology for analysing web services requirements and reasoning about Qualities of Services. CEPIS Upgrade // The European Journal of the Informatics Professional. ─ 2004. ─ Vol. 5. ─ P. 20─26.
Maximilien E., Singh M. A framework and ontology for dynamic web services selection // IEEE Internet Comput-ing. ─ 2008. ─ Vol. 8. ─ P. 84─93.
Method of non-functional requirements balancing when service development / T. Kot, A. Reverchuk, L. Globa, A. Schill // Journal of Theoretical and Applied Computer Sci-ence. ─ 2012. ─ Vol. 6, N. 3. ─ P. 50─57.
Kot T., Globa L., Schill A. Applying business process modeling method when telecommunication services devel-opment. // Proceedings of International Crimean Conference on Microwave and Telecommunication Technology, Sep-tember 2011. ─ Sevastopol: Weber, 2011. ─ Vol. 1. ─ P. 457─458.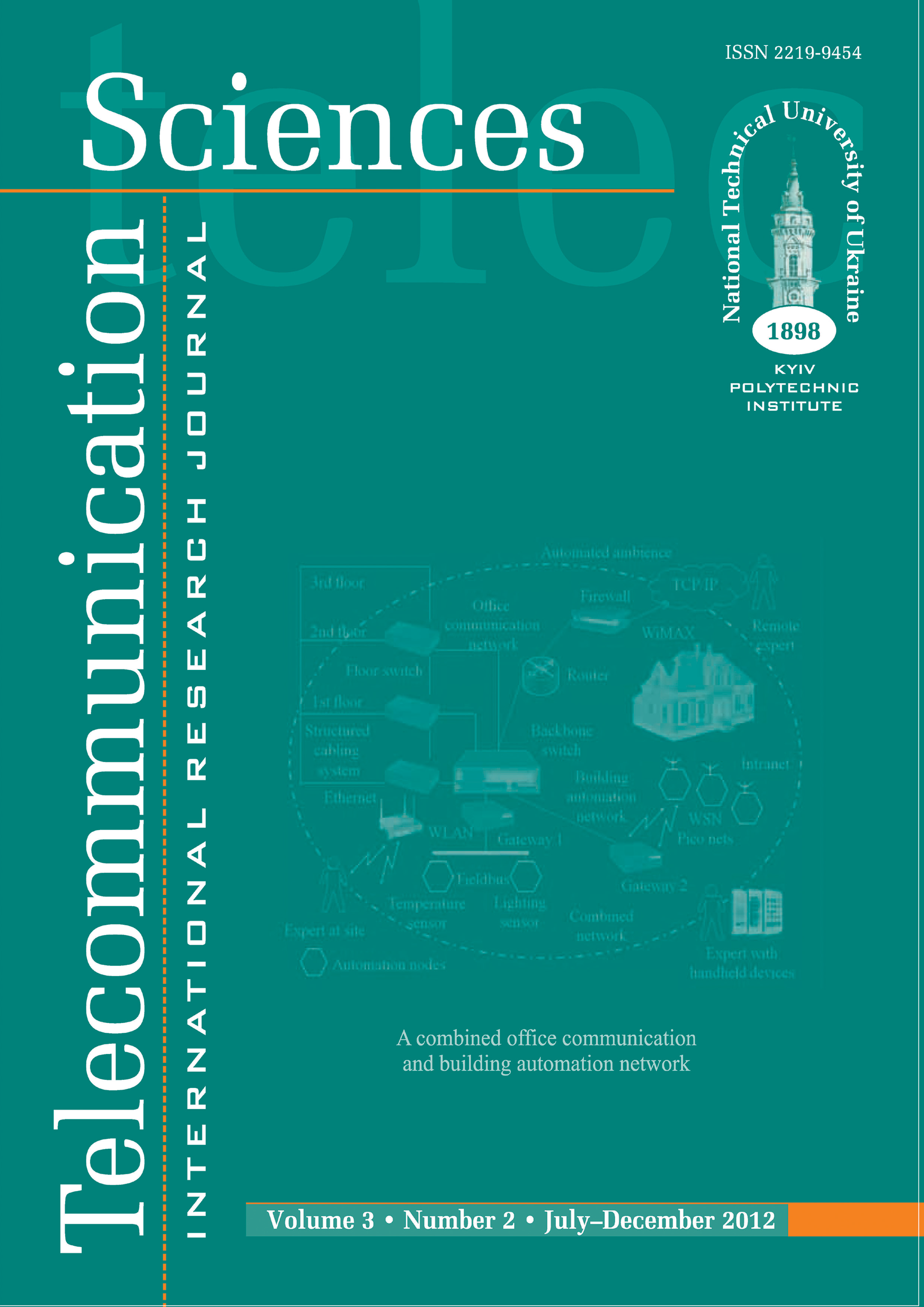 Downloads