CITY STREET LAYOUT DEVELOPMENT UNDER THE CONTROL OF "SMART STREET" DATA ACQUISITION SYSTEM
Keywords:
Internet of Things, smart street management, monitoring system, LoRaWAN protocol.
Abstract
Background. One of the urgent tasks of local authorities is to reduce the use of energy and human resources in the field of street services. The solution of this problem requires the development of a control system prototype that will allocate the resources needed to maintain the street in proper form more efficiently. The development and implementation of such a system is
possible through the use of the concept of the Internet of Things.
Objective. The purpose of the paper is creating advanced street management system prototype.
Methods. Particular attention of the study is directed to the data exchange protocol selection, step-by-step system topology layers configuration, and mobile street layout development.
Results. A few assembled and personally programmed end node modules were designed as a part of the first system topology layer.
Conclusions. The paper proposes the use of the LoRaWAN protocol for data transmission from the designed sensors to the processing center. Developed control system prototype testing showed satisfactory results in the field of communication reliability, sensors operating time from the internal power supply and the possibility of different subsystems integration.
References
Lora Alliance (2019). https://lora-alliance.org. Retrieved from https://
lora-alliance.org/about-lorawan.
Kopaniev, M., Zhivkov, O. and Rybak, O., 2020. "SMART STREET"
MANAGEMENT SYSTEM PROTOTYPE BASED ON THE
LORAWAN PROTOCOL. In: Twelfth International Scientific
Conference of undergraduate and graduate students "PROSPECTS
FOR DEVELOPMENT OF INFORMATIONTELECOMMUNICATION
TECHNOLOGIES AND SYSTEMS".
[online] Kyiv: Igor Sikorsky Kyiv Politechnic Institute, pp.334-336.
[Accessed 10 May 2020].
Iotnewsportal.com. (2018). How Smart City Barcelona Brought the IoT
to Life. [online] Available at: [https://www.iotnewsportal.com/cities/
how-the-smart-city-barcelona-brought-iot-to-life].
Lora Alliance (2019). https://lora-alliance.org. Retrieved from https://
lora-alliance.org/about-lorawan.
Electronic Design (2018). https://www.electronicdesign.com. Retrieved
from https://www.electronicdesign.com/industrial-automation/11-
myths-about-lorawan.
O.O. Rybak, O.I. Nazarenko (2019). LoRaWAN as IoT technology for
creating smart learning. Proceedings from the XIII International
Scientific and Technical Conference PT-19 Prospects of
Telecommunications. [in Ukrainian].
Kopaniev, M. (2019). SMART GARDEN CONTROL SYSTEM
DEVELOPMENT BASED ON LORAWAN PROTOCOL. In: Science
and Technology of the XXI Century. Kiev, pp.88-89. Available at:
http://konfist.fl.kpi.ua/sites/default/files/part_i_sections_1-5.pdf.
M.M. Kopaniev, D.O. Progonov (2019). Bezdrotova systema zv'yazku
davachiv perymetralʹnoyi systemy okhorony na osnovi protokolu
LoRaWAN [Sensors wireless communication for perimeter security
system based on LoRaWAN protocol]. Teoretychni i prykladni
problemy fizyky, matematyky i informatyky - Theoretical and applied
problems of physics, mathematics and computer science: Proceedings
of the International Scientific and Practical Conference. (Vols 1), (pp
-125), Kyiv.
C. Sridharan (2018). Distributed Systems Observability. Retrieved
from https://www.oreilly.com/library/view/distributed-systemsobservability/9781492033431/ch01.html.
P. Waher (2015). Learning internet of things: Explore and learn about
Internet of things with the help of engaging and enlightening tutorials
designed for Raspberry Pi. Birmingham: Packt Publishing.
Cisco (2018).https://www.cisco.com. Retrieved from https://www.
cisco.com/c/en/us/products/routers/wireless-gatewaylorawan/index.
html.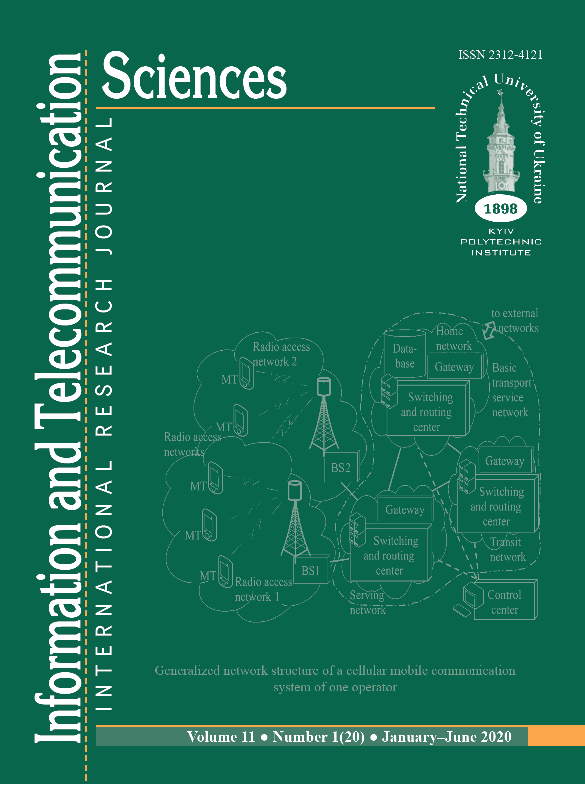 Downloads