MOBILE INFOCOMMUNICATION SYSTEMS
Keywords:
systems of mobile info-communications, virtualization telecommunications, information technology, softwaredefined devices and networks
Abstract
Background. An increase in the number of users and services with the support of the required quality of service, an increase in the coverage area of one operator's radio access network, and most importantly, the emergence of packet-switched technologies and systems, has led to a significant complication of the core mobile communications network and its nodes, an increase in the functionality and intellectualization of the network core. Gradually, it was the core network and the technologies of its functioning that became more significant than the radio access network. Hence, for the construction of
mobile communication systems, more integrated information and telecommunication technologies, especially from the field of network and information technologies, became popular.
Objective. The aim of the paper is to present the concept of the architecture of mobile infocommunication systems as systems whose services make a significant, even decisive, contribution to the functioning of the infrastructure of modern society, built on the constant exchange and assimilation of information.
Methods. The structural and functional methods of constructing the architectures of information and telecommunication systems are investigated.
Results. The signaling network of mobile infocommunications manages the maintenance of both individual wireless user terminals (telephones, smartphones, tablets), and many wireless inter-machine communication devices and the Internet of Things. In addition, the same alarm system supports various telecommunication networks of wireless subscriber access, automobile and other vehicles; creates an interface with wired / cable access networks. Thus, the core network of mobile infocommunications can fully integrate interfaces with all types of telecommunications, which are designed to transmit many low-speed data streams, as well as to transmit high-speed data streams. There is a
tendency to take over traditional old services, for example, the public telephone network and radio-relay communication lines, and turn them into private services of the mobile infocommunication network, which further enhances their importance. All this creates the prerequisites for the transformation of mobile infocommunication operator systems into the main (determining)
players in the telecommunications market. Confirmation of this is the high characteristics that are to be achieved in the networks of the 5th and 6th generations of mobile infocommunications.
Conclusions. Mobile infocommunication systems have become a defining component of all telecommunication services provided to users and non-servicing nodes of sensor networks, and the infrastructure of core networks and access networks of mobile infocommunications has begun to determine the general technical infrastructure of telecommunications
References
M. Vaezi, Y. Zhang, Cloud Mobile Networks: From RAN to EPC,
Springer, 117 p. (2017), ISBN 3319544969, 9783319544960.
Signal processing for 5G: algorithms and implementations / edited by
Fa-L. Luo, C. Zhang, Chichester: John Wiley, 2016, 600 р. (ISBN
.
5G NR: The Next Generation Wireless Access Technology / edited by
E. Dahlman, S. Parkvall, J. Skold, London: Academic Press, 2018, 468
р. (ISBN 978-0-12-814323-0).
Advanced in the telecommunications 2019: monograph / by edited
M.Y. Ilchenko, S.O. Kravchuk, Kyiv, 2019, 336 p. (ISBN 978-617-
-12-2).
M.Y. Ilchenko, S.O. Kravchuk, Telecommunication systems: Kyiv,
Naukova dumka, 2017, 736 p. (ISBN: 978-966-00-1566-1), (in
Ukraine).
S.O. Kravchuk, D.A. Minochkin, "Application of distributed
computing in telecommunication systems", Scientific papers coll. of
the Military Institute of Kyiv National University. Shevchenko, Issue
, pp. 41-44, 2015.
K.A. Kazachiner, S.O. Kravchuk, "Technologies of the Virtual Small
Cells in 5G-Networks", Dig. of the 12th International Scientific conf.
"Modern Challenges in Telecommunications", april 16-20, 2018, Kyiv,
Ukraine. – pp. 220-222 (2018).
S. A. Hoseinitabatabei, A. Mohamed, M. Hassanpour, R. Tafazolli,
"The Power of Mobility Prediction in Reducing Idle-State Signalling in
Cellular Systems: A Revisit to 4G Mobility Management", IEEE
Transactions on Wireless Communications, 19, Issue: 5 pp. 3346- 3360
(2020) (doi: 10.1109/TWC.2020.2972536).
Advances in Ubiquitous Networking: Proceedings of UNet'15, Edited
by E. Sabir, H. Medromi and M. Sadik, Springer Science+Business
Media Singapore, 562 p, (2016) (ISBN 978-981-287-989-9 ISBN 978-
-287-990-5).
Y. Yang, J. Xu, G. Shi, C.-X. Wang, 5G Wireless Systems: Simulation
and Evaluation Techniques, Springer International Publishing AG 454
p. (2018) (ISBN 978-3-319-61868-5 ISBN 978-3-319-61869-2).
L. Afanasieva, D. Minochkin, S. Kravchuk, "Providing
telecommunication services to antarctic stations", Proceedings of the
International Conference on Information and Telecommunication
Technologies and Radio Electronics (UkrMiCo) 11-15 Sept. 2017
Year, Odessa, Ukraine. – ІEEE Conference Publications, pp. 1-4
(2017), (IEEE Xplore Digital Library, doi:10.1109/UkrMiCo.2017.8095419).
R. Odarchenko, S. Dakov, "Project network SDN for providers ISP",
Science-intensive technologies, 36, № 4, pp. 289-295 (2017) (doi:10.18372/2310-5461.36.12225).
S.O. Kravchuk, "Mobile Infocommunication Systems", Proceedings of
the 14th International Scientific conf. "Modern Challenges in
Telecommunications" MCT-2020, april 13-17, 2020, Kyiv, Ukraine. –
Igor Sikorsky Kyiv Polytechnic Institute, 2020. – P. 161-164. (ISSN
(print) 2663-502X, ISSN (online) 2664-3057).
(http://conferenc.its.kpi.ua/proc/issue/archive, http://journals.uran.ua/
(ISSNonline 2664-305)).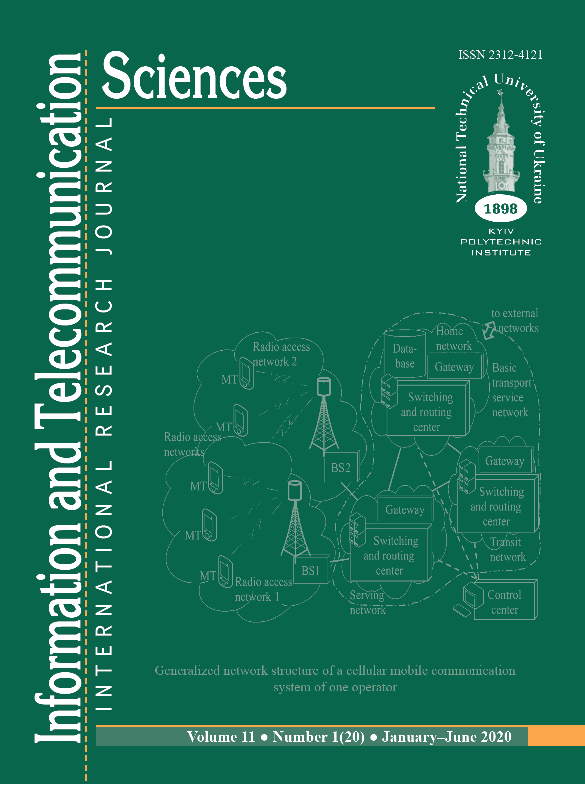 Downloads