RESEARCH OF THE THROUGHPUT FOR SHDSL EFM SYSTEMS IN PAIRS AGGREGATION MODE
Keywords:
SHDSL, EFM, throughput, PAF, NEXT, FEXT.
Abstract
Background. In modern access networks based on copper cable, EFM is widely used. This technology, using the PAF function, allows you to unevenly distribute data stream between pairs of cables depending on their quality. However, the function of PAF decreases the throughput of the transmission system due to the additional fields in PAF
data frame. In addition, there is crosstalk interference between pairs, which also reduces the throughput of the connection. Therefore, research of impact of these two factors on EFM transmission systems throughput is the actual task.
Objective. The purpose of the paper is theoretical research of the throughput for multipair SHDSL EFM connection depending on number of aggregated pairs and distance.
Methods. Study all known publications and standards concerning EFM technology. Analyzing frames' format for protocols used for SHDSL systems with EFM to calculate relation between payload and special data. Research of crosstalk interference impaction on SHDSL EFM link throughput.
Results. The theoretical results concerning the throughput which can be achieved in multipair mode.
Conclusions. Methods of research and their results may be used for estimation of the real throughput of SHDSL EFM links during the planning and project process.
References
IEEE 802.3, part 3, section 5, clause 61, 2010.
Watson SHDSL EFM Plug-in. Operating manual.: Schmid Telecom, 2014
ITU-T Recommendation G.991.2, 2003
Balashov V.A. et al. XDSL broadband accesstechnologies – M.: Eco-Trends, 2009. P. 256
ETSI STC TM6. Cable reference models for simulating metallic access networks.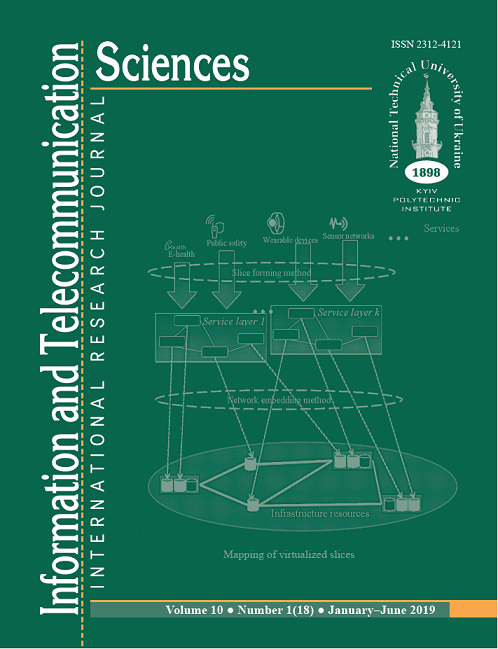 Downloads